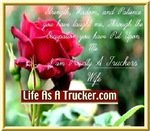 Truckers Wives
Tribute to Truckers Wives Holding It Down
Trucker's Wives Profiles
Truckers Wives Forums and Chat Room

Truckers wives are faced with serious challenges with an over the road trucker as a husband. Not only is she left with the responsibilities of the maintaining the business of the home but she has to also raise the children (of course if there are children) in a world that constantly demands an increase in effectiveness to raise those children successfully.
In a good relationship to be the wife of a trucker is tough to put it mildly I am sure. In a shaky relationship, a trucker's wife may easily suffer emotionally from lack of attention, lack of appreciation, or lack of support.
It takes a strong, independent, understanding woman to be a trucker's wife and support her husband wholeheartedly and she should be cherished.
---
Message to truckers who has a good wife at home
Don't ignore the stories you hear from other truckers about how their wives decided to move on. I know some women are trifling and abuse or take advantage of their trucking husbands sometimes.Those are not the woman this is talking about.
You know if you have a supportive, trusting, understanding woman at home that treats you with respect and admire you know how tough your job is on the road everyday. If you have THAT woman at home show her you appreciate her and with the same understanding,trust, support and respect. Show her the love she deserves, don't just utter the words. Show her!
If you have a good woman at home but not exactly that women, try this . . .
---
What is it like to be the wife of a trucker?
Obviously, I am not the wife of a trucker. (lol) So what I've said about trucker's wives is just common sense but sometimes taken for granted.
Ladies if you are the wife of a truck driver please tell us what it's like to be truckers wives in your words. Tell us the good, the bad, and the ugly about you life as a trucker's wife.
Life As A Trucker's Wife
Ladies, tell us your story. Entertain us, educate us or just make us laugh. I am sure other wives would love to hear your voice.

What is it like? How do you cope with your husband being away from home. Where you turn for support when times get tough. How do you keep a positive attitude during the challenges you face as the wife of a trucker?
What Other Visitors Have Said
Click below to see contributions from other visitors to this page...