Marriage Advice For Truckers or Trucker's Wives
Meet Keith a devoted husband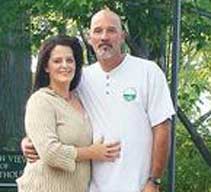 who says his relationship was fine until he graduated from truck driving school. Upon completion after deciding to go over the road with Werner the relationship began to deteriorate. He then states he got a trip that took him by the house just before Christmas and it made him re-evaluate his priorities and then options so that he could be home more often.
Well, he quit over the road but the next company wasn't a fit either, however it did give him the opportunity to meet regional drivers.
To make a long story short he did some prioritizing, asked a lot of people a lot of questions until he ran across information that led him to the job he now enjoys. Buts the happiness at home didn't come back without a change in attitude.
It's so much to his story that it can't really be a summarized.You can
read Keith's full story here but let's just say, after seeing very tough times juggling trucking life and marriage and successfully getting things back in harmony he is ready to give marriage advice to other truckers or truckers wives based on what's he has learned.
Marriage Advice For Truckers and Trucker Wives From The Drivers
Do you have questions to a driver about how he is making his marriage work while being a truck driver.
You can be another driver or a trucker's wife wanting the inside scoop from a driver's point of view.
What Other Visitors Have Said
Click below to see questions others have asked.

Becoming A Trucker
Marriage Advice For Truckers and Truckers Wives