Trucking Information: Words of Wisdom from Jimmy
Life as a Trucker in The Trucking Industry Broken Down
Meet Jimmy
Hervy meets Jimmy in August 09 click here to see videos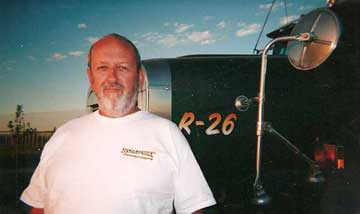 Want trucking information and words of wisdom about trucking and life as a trucker from a well seasoned and experienced person with a positive mind?
Wait no longer.
Jimmy will be quick to tell you he's driven for 32 years, but I will tell you a little more information I learned about Jimmy.
Jimmy is 63, a retired truck driver living in Kingman, Arizona. He got his CDL in 1976, and still holds a valid Class A with a valid medical card. He don't need either right now though because he's kicked back after retiring in 2008.
Jimmy says he jack-knifed one truck in '77 and has 2 tickets at most in his truck during his career.
He's driven 12 of those years over the road. He was a local trucker for 20 years.
Jimmy has driven trucks all over the country hitting every state pulling dry box (regular vans), reefer, flatbed, bottom dumps, and end dumps in all weather through all terrain as solo and with a team driver. (Can't wait to hear the team driver stories!)
He said that he's been an instructor at a truck driving school as well as driver trainer for a trucking company.
Jimmy has also been owner operator several times but spent most of his time letting the companies worry about the business while he was a company man.
"I would also like to give the drivers and newbie drivers perspective of trucking from a management point of view: you know drivers look at trucking from the driver's seat, but do they realize what it is like in the office (dispatch, safety, payroll, the shop area, etc.)"
Needless to say Jimmy also mentioned that, like me, he also enjoys helping other drivers especially advising the new drivers.
So without any more of my blabber about Jimmy, He will share his words of wisdom about trucking below.
Jimmy, I will start this off by asking you a few couple questions!
1. What made you get into trucking?
2. What did you like most about trucking looking back?
3. What did you dislike most about trucking looking back?
4. What would you have done differently in your career as a trucker?
Get Trucking Information and Words of Wisdom From Jimmy
Jimmy will give more insight about a trucker's life and the trucking industry. He says he also wants to talk about running a trucking company from the management point of view. I am sure we will all learn a lot.

Jimmy will enter his stories here, visitors can scroll down and click on each heading to read and comment on his blog entries

Jimmy, what's say you . .
Other Blog Entries about Trucking from Jimmy
Click below to see other topics