Small and Medium
Trucking Companies
Many of these smaller or medium sized trucking companies do not advertise their jobs as aggressively as the mega carriers for severs reasons.
They may not have the budget or it might be that their turnover is low enough that it's not a priority.  Some of them have people waiting for positions.
Some smaller companies may not have the budget. They also may be at a transition stage where they could use truck drivers but not bad enough yet to spend the money on advertising but if you contact them, they take the opportunity to hire and believe it or not, may even buy another truck if they think you would make a great driver.
  Lucky for you, if you're in Greensboro or the surrounding areas I have several companies that you can go to work for right now!  If you're qualified.
Some companies that you might consider if you're in the area...
Piedmont Logistics if you live withing 50 miles of Reidsville NC.  I worked there for a year.  Loved it.  The fleet manager is a trucker.  The owner and staff (3) are all good people as far as I know. 
I only left because I bought a truck.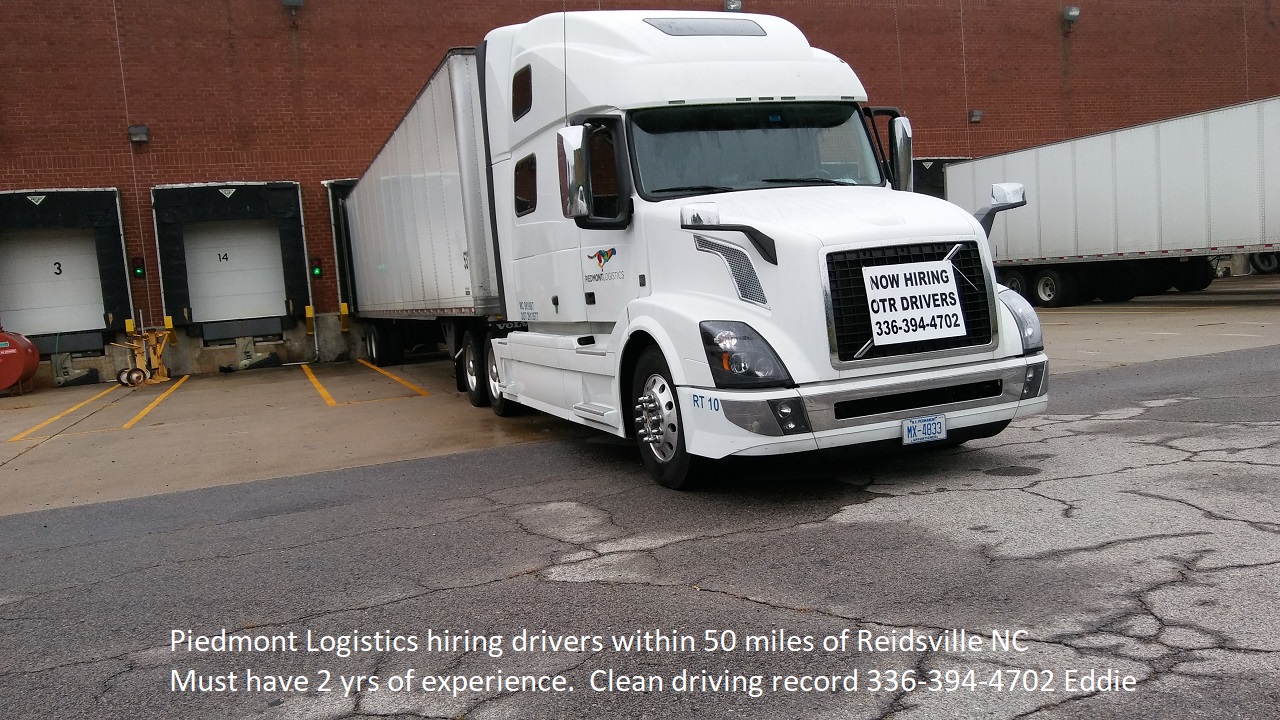 Morrow Carriers if you live within 50 miles of Greensboro.  I am leased on to them now and it's as close to perfect as you could expect. 
As a company driver, you will love it too.  No bureaucracy. The owner and fleet manager is a trucker.  He is the staff!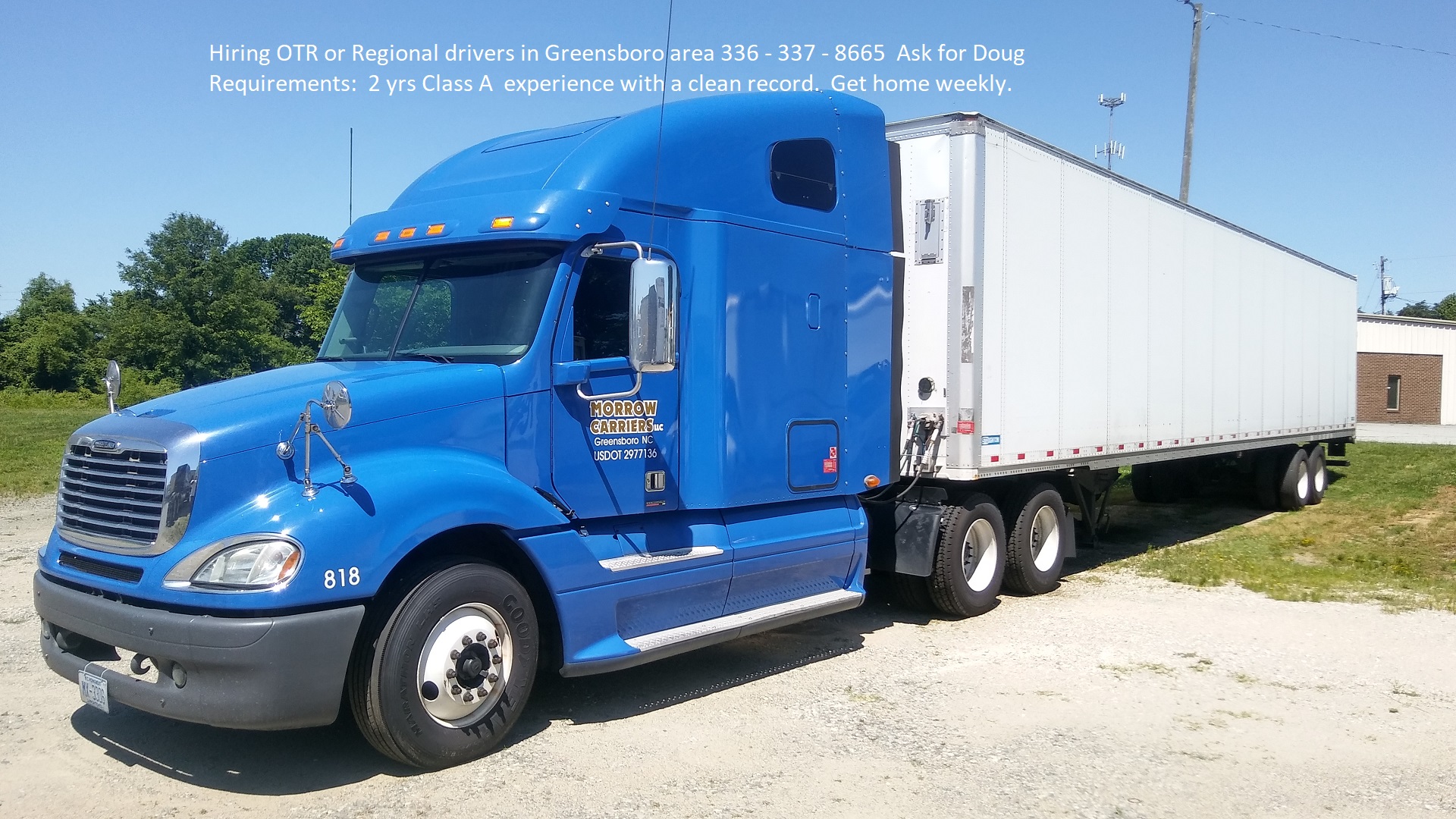 Before these two I worked at another 2 other trucking companies.  One medium sized and the other small.  Loved it at both of those.  Not perfect but I only left when I had to.  One went out of business and the other sold the company. 
Folks despite what you keep hearing, there are some great trucking companies out there, but they are not going to find you.  You have to search for them and talk to a lot of drivers to get personal references from their experience.

What all of us drivers do know is that these smaller trucking companies usually provide a much better experience than the huge trucking companies. You are a person and not a number. People in the office tend to care.
Driving for local or smaller trucking companies usually helps you get home more often. They want you back to pick up another load from shippers that they are contracted with locally, which is usually why they are located there or why the local businesses use them.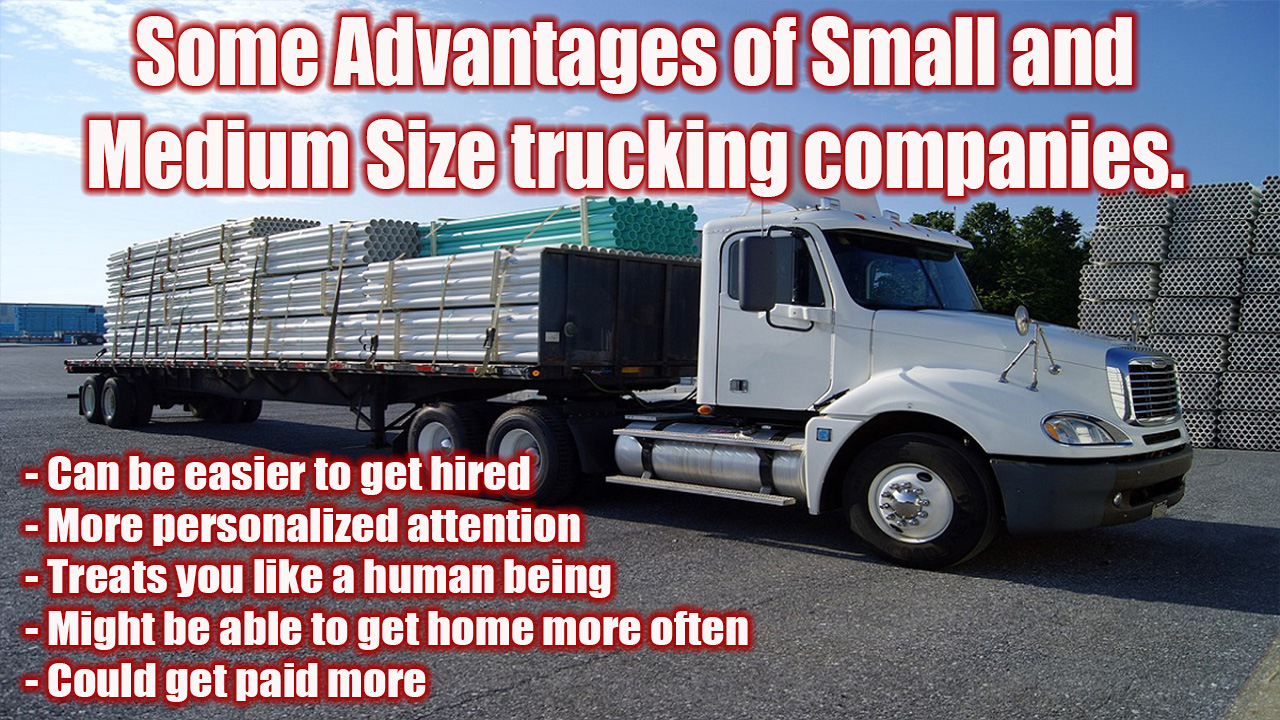 Do a search for local trucking company in your town by typing..."your city truck drivers" or "your city trucking jobs. Call some of these trucking companies to see if they are hiring and if they will hire you fresh out of trucking school or whatever your situation may be.


Tip: Think about what you will say to introduce yourself before you call. Once you make a few calls, remember the common questions they will ask you and rehearse how you will respond on future calls. Also rehearse the questions that you will ask. The is useful if you are someone who is nervous when making these types of phone calls. You will sound more confident and sure about yourself and deserving of the position. Do not to make up lies to say, its a waste of time.
Sell yourself. Why should the company hire you?
To the right you will see pages built for your state where you may find local, small, or medium trucking companies listed who are hiring now. This is another option to doing a search.
Summary of Benefits for These Trucking Jobs

Get home more often - More flexibility

Get paid more - per mile or percentage

Easier to get hired - More lenient

Better communication - Can talk to bosses and decision makers

Get treated more like a human being - Instead of a machine

May not have the experience requirement

Where to Find Hiring Companies
Craigslist postings

Check your local Sunday newspapers
Local Independent Papers
Thrifty Nickels
Free classifieds
Employment Guide
ESC or Employment Security Commission.
Ask every you know if they know an owner operator.

Also simply pay attention while you are out and about. Distribution centers or large manufacturers in your area may have their own trucks.

Go to these places and inquire within. Ask your friends if they know anyone who works at these places. These personal contacts often will have better results. You never know who or what the people you know might know if you don't talk have a conversation about it.

Good luck.
Out of The Box Approach
Have cards printed up with you contact info and your best simple short sales pitch why it would benefit someone to hire you as a driver. Carry these with you while out hunting so that you can leave everyone with contact info. Of course some will throw it away immediately. The level of effectiveness will depend on many factors but one will be your attitude, so remember that when you are out.
Is it possible to make someone WANT to help you? The answer is yes.
Take notice of the local truck stops. Especially the small stations that allow truck parking. See if you can posts a flyer (you can also attach a resume) with your qualifications and desire. Owner operators in your area probably frequent such businesses. Also ask the people working there if they know someone who needs a driver.
Post your desire to be hired at other places that owner operators might show up like your local Diesel Mechanic. Ask him/her if they know any owner operators that need drivers and if it will be OK to leave your flyers in the waiting area or driver's lounge.
Post them at places where HR, drivers or warehouse managers might stop during lunch. For instance, service stations with a deli next to distribution centers or manufacturing plants.
Small/Medium Local Trucking Company Hiring Drivers Top
What Are Your Comments?
What are you thoughts, ideas, or comments about the information on this page? Do you have experience with the topic. Can you give additional information? What's your story? What's your insight. What's your opinion? What's Your question? Share them with us!
____________________________________________________

DO NOT make childish posts attacking people or companies.
DO NOT abuse this site to get back at someone. You will be banned.
____________________________________________________
Other Comments
Click below to see contributions from other visitors to this page...