Realities of Trucking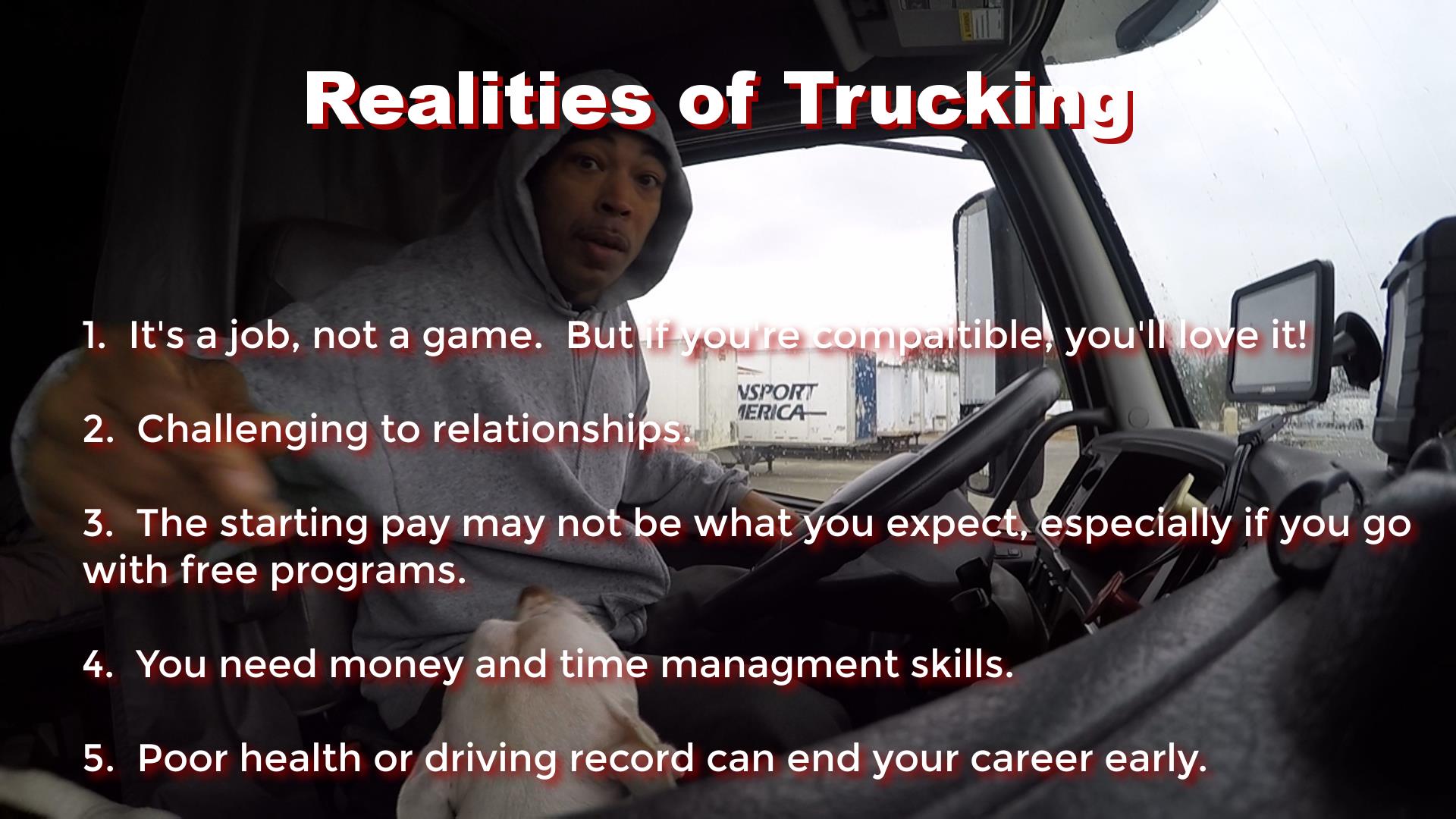 No company is perfect.  Make a list of your needs to choose the right company for you.

The starting trucker pay is not the average pay for truckers.  Like anything else, you start at the lower end and then grow.  Like I said, $25,000 - $45,000.  Depending on how you start trucking

It's not an office, warehouse, kitchen, hospital, restaurant but it's also not a vaction.  It's a job/career. Then play

Trucking jobs are dangerous.  Not for reasons you might assume.  The real danger is that you are on the highway for 100's of miles daily.  That's dangerous.
It's possible to change mentally and physically if you're not careful Read more here
You're gone for weeks at a time unless you go local or regional. 
If you're in a relationships, it can be VERY challenging.  For more information and tips about the impact of trucking on the family.
Another reality....let your health go too far or ruin your driver record, you won't have a job.  So it takes some personal responsibility and discipline.

Having said all of that, again, it is a wonderful career for the right person.  Don't let any of this stuff scare you, I just want you to be in the right frame of mind. 
Trucking is fun ONLY if you are compatible and understand that it IS work.  More to it than driving.  It's also and adventure and challenging at times....

Can Take a Toll on Your Health
Again, this is where mindset comes in.  Personal responsibility comes in.  You have to be proactive and disciplined to stay healthy.  That ranges from getting proper rest, getting exercise and eating a good diet.

Summary
Pay attention to the realities of trucking. Hopefully the pros will out weight the cons for you. Or maybe the realities won't affect you at all because of your situation just allows you to be able to ignore some of them.
If you are single with no family at home, half of your potential challenges are gone. For the rest of you the realities must be carefully considered and thought through as I mention on the disadvantages of becoming a truck driver page.
Go to the list of disadvantages of becoming a trucker
Won't be able to get back home in a time in a moments notice
Logistics (Lack of freight to where you live

Poor dispatching(not your fault, lol)

Lack of freight
One of the main things to consider if going over the road is the fact that you can't get back home at a moments notice.  The best thing to do is request for home time in advance.  If it is a very important date, like your wedding, arrive days early and stay longer.
If you try to get their just in time, too many things can happen to ruin your plan.
You can't always do this like on regular weekends because it means you will love days of running freight which means lean paychecks.

It's just a matter of logistics, trucking is not a regular 9 to 5 job. You are not around the corner or even in the next town. When emergencies come up you may not be able to get back home.
So if you got a spouse, parent or child at home with very a serious illness the realities of trucking may not be something you need to deal with. That why you hear me say trucking is a very rewarding career, but it's not for everyone.
Leave the realities of trucking and go to disadvantages