Diesel Mechanic in Latta South Carolina
by The Crazy Trucker
(Latta South Carolina)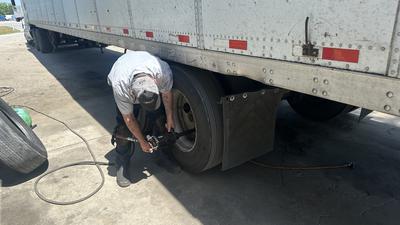 Changing My trailer tire
I stopped at the South Carolina Flying J at exit 181 to see if I could get a used tire that wasn't a recap.


I had called Flying J shop and they said they could likely get me in within a few hours.
I didn't want to wait of course. So I decided to check out the guys across the street. The didn't look like there were open so I called the number on the sign.
Glad I did. They weren't there but said they were on the way!
I rotated some tires and got 2 used trailer tires put on. My things is I don't like recaps. So i was happy they had used non recap tires.
The cost was affordable and the guys that work there were very cool. Seemed like good people.
In fact one of their customers came while I was there to drop his truck off and gave them high praise!
I ended up buying one of my used tires from him for cheaper than their price of course. And you might think they would be bitter about that.
But like I said, they are real cool folks!
I highly recommend. Fast work, no goofing off, and good prices.
And they don't mind answering questions about tire wear, truck issues, etc.