Donna Clemow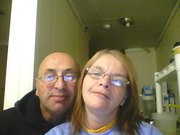 Hello my name is Donna Im a truckers wife, my husband is a trucker Over the road, I work to my self as a PCa, 40 hours a week, plus I care for my 26 yr old Handicap daughter.

She misses her Dad when he leaves to go back over the road. we miss him daily, and what my daughter will say daddy i miss you and this brings tears to my eyes.

I have been a truckers wife for 12 yrs now, handling all our bills,working, caring for our beloved daughter, and taking care of the chores alone when your man isn't home with you from bills, to appointment and car problems.

hope to meet some other wives out there so that we can be friends. also we have been married now for 12 years. we long for the times when he does come home,and it is spent the most precious ways when he is home.

we love him and miss him every day.
Join in and write your own page! It's easy to do. How? Simply click here to return to Truckers wife profile.