2005 Peterbuilt 18 spd 475 Cat 120"ICT Bunck w/Shower,restroom,table, oven etc.
by David
(Lexington,TN USA)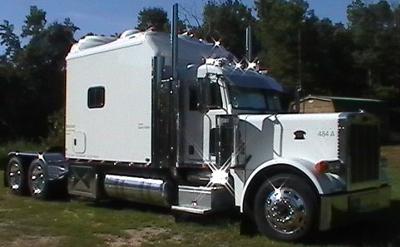 Truck from the outside
2005 Peterbuilt 18 spd 475 Cat Low Miles (200,000) still under warrenty w/ 2 buy extened warrenties. 120"IcT bunck.


This truck is good if you want to do long runs and live good doing it. (call David Neely at 731-614-5402 for all the pictures you may want).
I do promise it is truck driving living good. Beauitfull hard wood floor bunck w/ hot shower kitchen w/ sink and wooden cabints.
You also have refre.and freezer micro/and convential oven (cook like your home) drawer and cabinets in that area for all kitchen needs.There is a Full size
bed the folds up and locks in in which under that is a table and two long sitting areas (like a buth)as there in enough room at the table for people to eat or watch TV on a built in Flat Screen HD TV. And wooden closets. And just like home it has a back door to go out easy to the deck with 2 steps. A Peterbuilt with everything you need to live like a home.
On top of everything else above the bunk is a beauitfull big round minor with over head lights cicling the minor. WHAT ELSE CAN YOU ASK FOR! THIS IS TRUCK DRIVING LIVING GOOD. HAVE EVERYTHING YOU NEED LIKE A HOME AND MAKE MONEY AT THE SAME TIME DONT MISS THIS DEAL!
Go to rununtilitsales.com or Any Questions Call David at 731-614-5402.