Paid my dues but still serving life......
by Chris Hill
(Toledo, Iowa USA)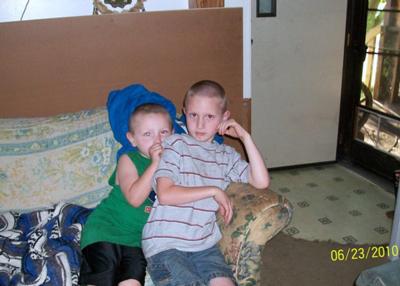 My boys
Back in 2006 I had just gone out on my own and didn't have the income to support myself. I was staying around with whoever would let me stay a few days.


I was staying with a friend who was living in one of his dad's houses. While my buddy was gone one day I had gone out to the store real quick and the door locked behind me. I came back and carded the door open so I could get in and his dad pulled up and saw me doing it. He called the sheriff and had me charged with Burglary 3rd which is a minor felony here in Iowa.
I even tried to get him to stand up for me in court but I think his dad put a stop to that. During that time I was also writing bad checks under my personal account to pay for the things I needed to live.
I was charged with Theft 2nd for $1019 in bad checks. That was back in 2006 and I have been clean and good since then. I have wanted to get into trucking for the longest time and I keep hitting the same barrier that everyone else is and I refuse to give up. It just seems like I am at a huge roadblock and don't know what else to do. Finding even a regular job has been hard especially living in a small town. I am living with my fiance and our kids at her parents 2 bedroom trailer and it makes me feel like crap everyday because I feel like I should be providing better than that.
I am going to be 24 in November and recently sent out a batch to the trucking companies again along with Swift and they have told me the same answer they always do. I just want to provide for my family while at the same time doing the things that I love. I don't want my kids growing up thinking of me as a worthless piece of crap who can't find a job.
I have paid my dues and now I feel like I am serving a life sentence. Is there any hope for me because I can't keep putting my family through this. They deserve better than that. Right now the only thing I have found is the fire department where I am a volunteer ambulance driver and that doesn't pay the bills.