Lady Driver retired after 20 years!
by Vicky
(Shelby, NC)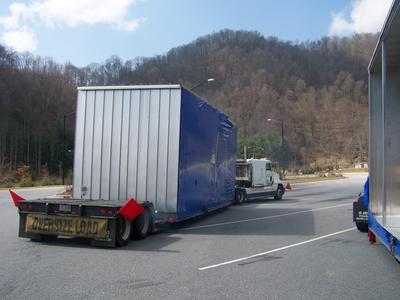 I started driving back in 1988 and it was great for a while. I made a lot of money over the years and ended up pulling Flat beds because I thought it was pretty easy except for the parts where you had to tarp.

The Flat bed usually paid more so I was willing to work harder and smarter. LOL I didn't have a problem getting all the help I needed if I needed it.

There were some dirty mouth drivers, but I could see why! They were usually the Ugly, overweight, rednecks that couldn't get a decent woman, if their life depended on it.

The best thing to do if you are the butt of his jokes, is keep your mouth shut and pretend you didn't hear anything. There is always someone out there that will defend you if necessary.

My favorite part was going in the truck stop at the end of the day to see what was going on in the TV room or spending some time chatting with fellow truckers who were real gentlemen.

I never cared to hook up with any of them because they were usually married and had someone at home that really loved them. Well, so did I.

Although the years have gone by and my guy ran off with someone else because I stayed gone too long. Well, that was the company's fault,not mine.

Now...I am alone and tired of driving and fighting the system. I could go back, but the money is not there anymore to make it worth it for truckers. Too many rules and regulations!

They just make it too hard to stay in business out there. It's hard to get from one point to the next in a reasonable amount of time anymore. Can't make money like that.

Even though after 20 long years of driving, and I was a safe driver and very professional, life out there can take a toll on you physically and mentally. You have to stay strong minded and eat right or you won't be out there for very long by yourself.


Join in and write your own page! It's easy to do. How? Simply click here to return to Women In Trucking.