Howard Stokes Hopkinsville,Ky.42240
by Howard Stokes
(Hopkinsville,Ky.USA)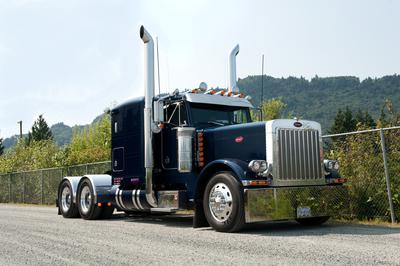 Drive to live and Live to Drive!!
I have been Driving a Semi since 1995 & I have Drove for some of the Top Companies in the United States and after my wife got Cancer I just took local Flat Bed jobs that kept me home every other Day.

I have Driven just about everything from Cab-Overs to Brand New Trucks.I drove for Owners who just ran Hopkinsville,KY. to Detroit Mi. They kept 6 Drivers for four Trucks. Which allowed me plenty of time home.

My wife has passed away now and I have just been Delivering loads when ever someone needed a Driver. It's been 3 years now and I have a 17 year old that is still in High School and now is old enough to stay home for a day or two now.

I started out with a dry Box for first couple of years. I than started Hauling Drip-Deck for Porta-Grace Carports. I than Drove a Covered Wagon. I took local job in 2006 Running Flat Beds out of Hopkinsville,KY.42240 & have done this for past 7 years and the Fellow Driver Devorced and shut Company down and Sold everything that he had. I just fill in for Friends that need time off or are sick.

This has worked fine for me for past 3 years and my now that it's Winter I am up to date on Physical and DOT and I have over 2 million Accident Free miles.

I am willing to talk about pay and my intentions are to be able to find a job that I can have time for my children and have the money to enjoy my time off as well!!! I'm a Dedicated worker and Navy Veteran. I am willing to be fill in Driver or Back-Up Driver.

I just want to Drive and make both of us Money and not have to worry about Driving 24/7. I'll be your go to Driver when ever you need me!!

Thanks Howard Stokes. Hopkinsville,KY.42240
Join in and write your own page! It's easy to do. How? Simply click here to return to Owner Operator Needs a Driver to Share Truck.