Mosio Increases Mobile Worker Productivity and Competitive Advantages for Small and Medium Sized Businesses Through FieldForce Mobile, Group Text Messaging for Company Communications
by Noel Chandler
(San Francisco, CA)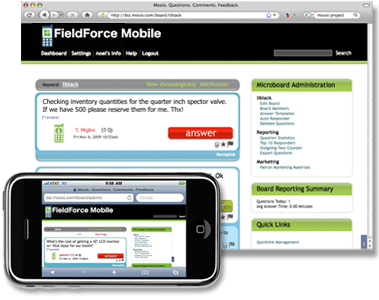 FOR IMMEDIATE RELEASE
July 26, 2011
Mosio Increases Mobile Worker Productivity and Competitive Advantages for Small and Medium Sized Businesses Through FieldForce Mobile, Group Text Messaging for Company Communications
Mobile Messaging Leader Fulfills Market Demand for App-Free, Web-Based Text Message Software to Reduce Time and Money Wasted on Phone Calls and Radio Dispatch by Using Existing Mobile Phones and the Internet
San Francisco, CA – July 26, 2011 -- Mosio, an award winning mobile software company providing text messaging and mobile web solutions for businesses, today announced the launch of FieldForce Mobile, a web-based mobile messaging software for the mobile workforce. The service enables companies to save time and money over phone calls by communicating with their workers via two-way text messages. FieldForce website: http://www.mosio.com/ffm
Designed to give small and medium sized businesses a competitive mobile edge without the need to buy new phones or hardware, FieldForce Mobile is on-demand two-way text messaging software empowering companies with 5 - 500 reps, technicians, drivers or contractors working away from the office.
"The massive shift in the way people communicate with each other using mobile phones offers great advantages to businesses interested in communicating with their workers on-the-go. In the past this has been cost-prohibitive because of the need to buy new mobile devices and hardware, sign carrier contracts or develop apps. Mosio's FieldForce offers companies the ability to let their workers use the phones they already have, but empowers management with internal business interactions from a web-based dashboard, offering visibility, control and increased revenues through improved work communication efficiencies," says Noel Chandler, CEO of Mosio.
"Mobility has been reserved for larger companies willing to spend more money to outfit their workforces with the newest technologies, creating a competitive gap over smaller companies still using phone calls, push-to-talk or two-way radio communications for dispatch and field support.
FieldForce levels the playing field for mobile workforce communications by tapping into two things everyone in business has: a text message-enabled phone in their pocket and the internet back at the office," adds Chandler.
Mosio's FieldForce Enables Businesses to:
• Improve visibility with a real-time dashboard for managers, dispatchers or support teams.
• Increase productivity by reducing "talk time" and voicemail phone
tag.
• Grow sales by giving workers more time to focus on revenue-generating related activities.
• Reduce costs by saving time and minimizing mistakes.
How it Works:
• Workers simply text into a special "texting" number Mosio provides businesses to register for their company's service.
• Company agents receive and respond by typing via their computers on a web-based interface.
• Outbound text messages can be sent to one or more team members with real-time alerts, reminders or updates.
• Inbound text messages are sent in by workers out in the field to give status updates, ask questions or place orders.
Industry and Business Use Types
FieldForce is best suited for any company with a remote workforce (local, regional or national), currently using voice phone calls or radio communications for dispatch, who are not interested in purchasing new mobile devices, hardware or apps.
FieldForce is being utilized or in discussions with companies providing or utilizing Field Reps, Remodeling and Construction, Plumbing, HVAC, Trucking and Logistics, Couriers, Pest Control, Alarm and Security, Staffing, Service Technicians, Retail Services and Sales Representatives.
"Five Use" Return on Investment
Mosio has found that reps or technicians using FieldForce 5 times instead of making phone calls, returning voicemails or talking on the radio provides their company with a return on investment.
Depending on how much a mobile worker depends on directions, real-time updates or writing down information to do their job correctly, the ROI can happen in 1-5 business days. Mosio offers a 30-day money back guarantee for companies willing to test the "Five Use" Return on Investment claim.
About Mosio
Mosio is a mobile software and solutions company providing text messaging and mobile web solutions helping businesses connect with customers and their workforces on the go, using their mobile presence as a competitive advantage to increase sales and brand loyalty.
Headquartered in San Francisco, more than 1,000 organizations have implemented Mosio's mobile technologies, including Microsoft, Pepco, U.S. Remodelers, Enterprise Holdings, Nike, American Hospital Association, Healthy Heartland and the United States Department of Health and Services.
For info about and to sign up for Mosio's FieldForce, visit: http://www.mosio.com/ffm
Media Images:
http://www.mosio.com/ffm/images/mosio_fieldforce_logo_web.jpg
http://www.mosio.com/ffm/images/ffm_microboardiphone.png
http://www.mosio.com/ffm/images/fieldforce_website_bizman_w.jpg
Media Contact:
Noel Chandler
Mosio, Inc.
press@mosioproject.com
+1 415.756.0123